Small Breed Dogs Biography
There are many great premium, dry, adult small dog kibble brands out there that are both healthy and
nutritional- it really just depends on the buyer's price range, if the dog has an health problems/allergies, and what food you are currently feeding them.
Diamond Small Breed Adult is a great Premium dog food with small kibble bits, no corn/wheat/soy, no artificial colorings/flavors/preservatives, and wholesome, known sourced ingredients. Diamond Small Breed is one of the best basic, premium foods on the shelf. This brand would be a good choice for someone with a tighter budget.
Next up would be a couple different Holistic formulas including- Nature's Variety Prairie and/or Instinct, Wellness Small Breed, Halo Adult, and Natural Balance Small Breed/Bites. Holistic formulas not only contain meat protein sources, but fruits and veggies as well for a nice balanced diet.
Nature's Variety and Natural Balance Small Bites are both All-Life-Stage Diets, meaning it can be fed from puppies to seniors. Both have small kibbles, no unspecified byproducts, no corn/wheat/soy, single sourced proteins, and nothing artificial.
Nature's Variety has two separate lines known as Prairie and Instinct. Prairie is made with only wholesome grains and absolutely no corn/wheat/soy. Instinct is completely grain free for dogs with extra sensitive systems. Both of the kibbles are bio-coated with raw food for an added yummy taste and to create a unique option of switching from flavor-to-flavor with less concern/risk of an upset tummy. This is especially handy if you have a picky dog who doesn't like to settle with one flavor for very long.
Wellness Small Breed and Halo are both EXCELLENT small breed formulas withs super small kibble, Halo being the smallest kibble I have ever come across. Both of these formulas are corn/wheat/soy free, contain no artificial flavorings/colorings/preservatives, and contain only ingredients approved by company inspectors.
Finally come the raw and dehydrated diets. Raw diets are exactly what they sound like...raw meat processed and packaged with extreme care and precaution by amazing companies like Nature's Variety, Stella and Chewy's, and Primal. Some of the formulas, like Nature's variety, contain added fruits and vegetables to create a more holistic approach, while others contain just meat. This diet is a great option, especially for dental health, because this is how dogs would eat in the wild- this is their natural way of eating food. The active enzymes in the raw meat plus the breaking apart of "frozen" meat does wonders for keeping the dogs teeth clean.
Dehydrated diets are also great options, although they are on the higher priced end of dog foods- they are exceptional in their quality and only require measuring out and being mixed with water. Honest Kitchen, Grandma Lucy's, and Nature's Variety all offer dehydrated diets. Honest Kitchen is processed in USDA approved facilities and has nothing but nutrition in it.
In the end, there is not one dog food that is "the best." Different dogs require different needs and diets, and different dogs react different to different foods. Asking yourself the following question can help you narrow down your search and feel more confident in sharing/asking for information from someone at your local pet food store-
1) Does my pet have any health problems?
2) Does he/she have any allergies?
3) What food is he/she currently eating right now?
4) What breed/type of dog is he/she?
5) How old is my dog?
6) Do I have any other pets that I need to take into consideration while making a food choice?
Science Diet, Eukanuba, Iams, Beneful, Purina, Old Roy, and other grocery store brands usually contain excess amounts of corn, wheat, soy, artificial colorings/flavors/preservatives, and other unhealthy, non-nutritional fillers. Be sure to take the time to read the ingredient panels.
I'll give a brief snippet of an article I posted discussing dog foods and the different varieties. But I think
clarification is need on your question. When you ask about "small dogs", do you mean small dogs in the literal sense or do you mean puppies?
Anyway, here's the snippet from my article about choosing a dog food and the label requirements:
The Nutritional Adequacy Statement will also include a statement about which lifestage(s) the dog food is suitable for. Two profiles are used. Below is a definition of each and additional information about other profiles:
Growth/Lactation - A product intended for growing puppies, for pregnant dogs or lactating females.
Maintenance - Suitable for any adult, non-reproducing dog of normal activity level, but may not be sufficient for a growing, reproducing, or hard working dog.
Terms like "Senior" or "Formulated for Large Breed Adults" means the dog food meets the requirements for the Maintenance profile, but nothing more.
A product that doesn't fit within the two profiles above must state that "This product is intended for internittent or supplemental feeding," except if it is conspicuously identified as a snack or treat.
Small Breed Dogs
Small Breed Dogs
Small Breed Dogs
Small Breed Dogs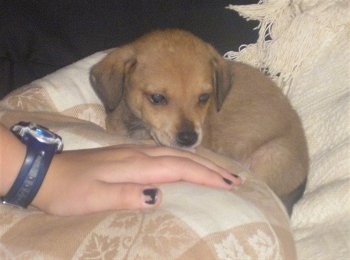 Small Breed Dogs
Small Breed Dogs
Small Breed Dogs
Small Breed Dogs
Small Breed Dogs
Crufts 2011 Dog Agility - Small Breeds Relay
Tips For Housetraining Small Breed Dogs