Maltese Dogs Biography
Maltese dogs are a small breed of dog that are in the toy dogs category. Their origin comes from dogs in the Central Mediterranean generally from the island of Malta hence their name. Other times you will find that they are referred to as originating in the island of Mljet from a town called Melita. Maltese dogs are considered a FCI breed with the breed being recognized by the American Kennel Club in 1964.
These dogs usually have a small rounded head with a dome that is around as wide as a baseball. They have a black button nose and small black eyes. Their body tends to be short in both length and height. Their ears drop down and usually have long hair that is surrounded by skin that is a darker color. They call this a halo and this is what makes the Maltese dog have an expressive look. Sometimes their black noses fade to a light brown and even sometimes pink color but this happens mainly when they are not exposed to a lot of sunlight. They appropriately call this winter nose as it usually gets back its shade of black after exposure to a good amount of sun.
Maltese dogs have silky long coats of hair but have no undercoat. They are usually pure white but may also be cream colored or may have a light lemon color. You will rarely find these dogs in a pale ivory color and sometimes with traces of a pale orange. It is important to note that these dogs have hair and not fur and so they are suitable for persons who have allergies. This means that you will need to regular groom them so that their hair doesn't become matted.
As adults these dogs can range from anywhere between 5 lbs. to 12 lbs. the standard for the breed is between 4lbs and 7lbs. the American Kennel Club standard requires them to be less than 7lbs and shorter than 12 inches but taller than 7 inches. Different standards have different requirements.
Maltese dogs have a very nice temperament and are good companion dogs. They love attention and are very lively and playful creatures. Even when they get older they still retain their lively and playful nature. Some of them tend to snap at smaller children so be sure to ensure that your children are supervised when in the presence of the Maltese. It is also good to allow the dogs to socialize with children when the dogs are young so that this tendency to be snappish will be reduced later on in life. They have a preference for enclosed spaces and so are ideal for apartments, townhouses or homes with small yards.
They have a tendency to bark a lot so you may want to find a bark collar for them if you live in an environment where their barking may be offensive or bothersome to your neighbors.
Maltese puppies are a breed of dog that is not only cute and adorable but that also serves as a great all-around companion. They are also suitable for small city apartments. Maltese puppies are one of the most popular and widely loved dogs particularly in the toy group. This reason for this is that they are a match for any dog in terms of their spunk, playfulness and charm. Furthermore, they usually encounter fewer health problems. Apart from being known for their cuteness and lovely appearance, they are also known for their affectionate and gentle nature. Maltese puppies constitute the right blend of cheeky and mischievous character. The chief requirement of a Maltese breed of dog is that they expect time to be spent with them and they will expect lots of attention and love. This breed is especially known for their bonding quality with human beings.
The Maltese breed is one of the most ancient and pure breed of dogs although the exact origin is unknown. The name Maltese gives a hint of its emergence to be Malta. But it may be of Italian origin. They are said to succeed the Spitz breed. However, possibilities are that they are comprised of both Spaniel and Poodle bloodlines. They have been a part of prominent art work in Egypt and several other countries of Europe. They also were chosen as an important symbol of royalty and wealth. The Maltese puppies form one of the absolute best breeds to be spoiled rotten and pampered. What is most attractive about them is their pure, silk like and elegant white coat of fur.
Maltese Dogs
Maltese Dogs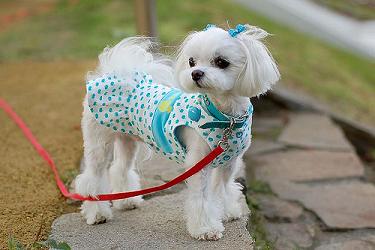 Maltese Dogs
Maltese Dogs
Maltese Dogs
Maltese Dogs
Maltese Dogs
Maltese Dogs
Maltese Dogs
Cute Maltese Dogs Dafne & Bianca Playing!
Summer 2012 With Maltese Dogs